Brookfield Asset Management billionaire CEO Bruce Flatt reveals the secret behind the company's 3,700% return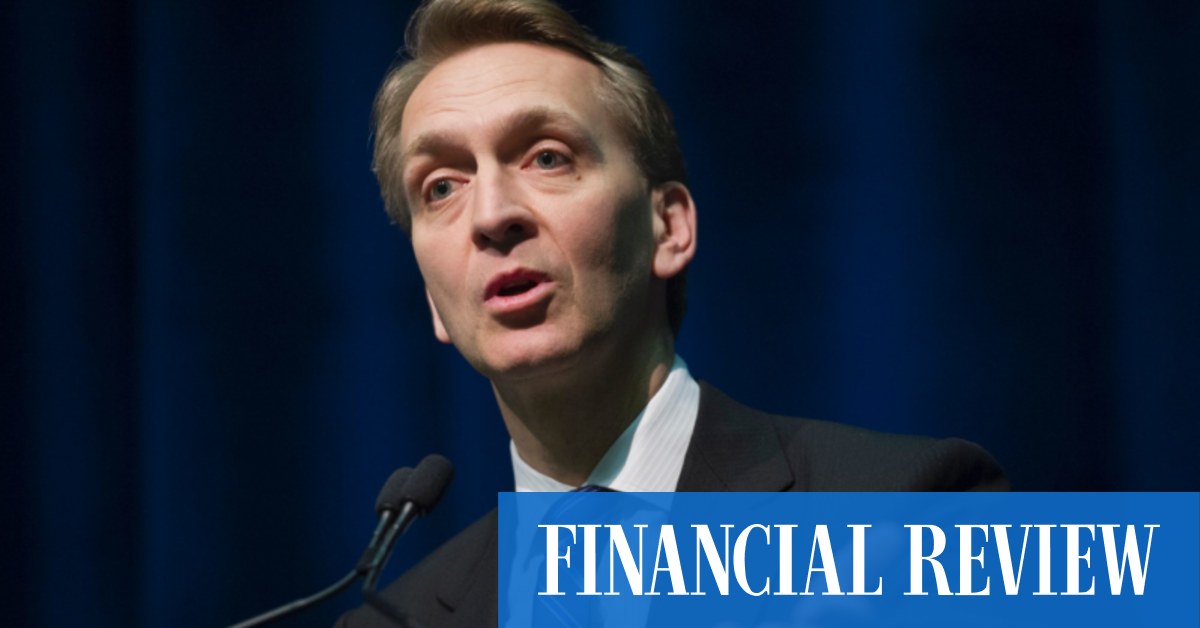 High global inflation isn't necessarily a bad thing for Brookfield because its businesses and real assets can adjust earnings upward over time, Flatt said.
"Inflation is actually a positive for most things we do," Mr. Flatt told Mr. Rubenstein, co-founder of the Carlyle Group, on Bloomberg TV. But "if interest rates get out of control and go up a lot, then that changes the paradigm." It's a result he fears but doesn't expect to happen.
Originally from Winnipeg, Mr. Flatt grew up playing hockey before studying accounting at the University of Manitoba. He took a job at what is now Brookfield in 1990 and later moved into real estate after the company bought Olympia. & York, the developer who built Canary Wharf in London and the World Financial Center in New York before going bankrupt.
At 29, Mr. Flatt was made head of real estate at Brookfield and became CEO about seven years later. He has a stake in the company valued at around $3.5 billion, according to data compiled by Bloomberg.
Mr. Flatt divides his time between London, where he lives, and New York when he is not traveling to visit clients or other offices. He told Mr. Rubenstein why Brookfield avoided direct investments in Russia and Ukraine, where he would invest US$100,000 today, the best investment advice he's ever received, and how he's a fan – and a regular user – of the London Underground.
The interview has been edited and condensed.
On investment in Russia and Ukraine
Let's talk about the current investment environment. Russia invaded Ukraine. Are you involved in Russia or Ukraine?
Even though we are global, we don't need to be everywhere. We generally do not sell consumer products. Maybe some companies do, but not us.
What we need is a rule of law in a country, a culture of respect for capital, a place big enough to invest in and where we can operate with the standards that we have in the United States. United, for example.
And those two countries, for some reason, didn't fit any of those things. And so we have no direct investments.
But every business in the world is going to be affected in one way or another, so there's no good news to come from this.
On inflation
In the United States, inflation is roaring at a relatively high rate compared to what it has been for the past 30 years or so. Is inflation a big concern for you?
We invest in alternative investments. We own businesses or assets that adjust their income over time. We do not own any fixed income instruments.
So inflation is actually a positive for most things we do.
If that office building costs X to build today and inflation comes along, it's going to cost X plus something, which means the rent to justify a new building is higher.
The real problem is interest rates. If interest rates get out of control and go up a lot, it changes the business paradigm. We don't think that will happen.
On Mark Carney
What does Mark Carney bring to your practice? Why do you need a central banker at Brookfield?
We have known Mark for a long time. He is a special individual. Besides being a macroeconomist and central banker, he has a passion for the world's transition to less carbon. And we brought him in to help us set up a strategy and a fund.
We are in the process of closing a $15 billion fund. It's exciting for him to be able to take his strategy and invest outside of it. But I think it's also good for the global economy.
What kind of businesses are you looking for that will be transferred through this fund?
These will be our traditional renewable energy businesses: solar, wind. More importantly, many businesses, especially power companies, need to replace fossil fuel generation with renewable energy. We are going to help companies and their balance sheets, because they simply cannot raise funds, to be able to go without coal.
You're trying to get really good rates of return, aren't you?
Yes, we should get excellent rates of return. The good news about this is that we're going to be able to do great things for the world and get great returns on capital.
On his advice to investors
At cocktail parties, do people come up and say, "I'd like to invest with you, but I don't know if I should invest in your stocks or in one of your funds?
Yes, people often ask me that. And I tell them, "Anything with a B in front of it. Anything that has Brookfield ahead of it, you should invest.
"We'll take care of you if you do."
On his biggest challenges as CEO
What are the biggest challenges in running a business like yours? What are you most worried about?
Everyone always thinks about geopolitical events, and you have to be careful in business with everything they do. But with the fullness of time, all geopolitical events pass. Wars, explosions, recessions – all of these things come and go. And they're really important at that time, but over time, if you have good businesses in good places and you continue to compound returns, you'll have great long-term returns.
On loss management
You seem like a quiet guy. What happens if you lose money on something? Do you yell and yell at people? Do you fire them or have someone else do it?
I would say the culture of our place is to try to make as many small mistakes as possible, which means you test windows every day, but don't make really big mistakes. People are encouraged to make small mistakes. And it's a good thing. It means we are testing the limits of where we should go.
By making mistakes
Have you ever made a big mistake that really hurt this business?
We made a lot of little mistakes, but you can't accrue 17% for 30 years, or 20% annualized for 20 years, and make big mistakes. It's impossible.
On index funds
What's the argument for giving money to someone like you, as opposed to an index fund?
If a person has very little investment knowledge, owning a passive equity index fund is probably the right thing to do. Put their money in, don't sell. Just keep it and let it get worse for a long time. If you have the opportunity to meet people who can provide you with products and you trust them, the money should be invested in products like ours.
On the problems of private investment
What are the biggest concerns you have with the private investment firm. Something keeping you up at night?
There are two things: inflation like the 1970s, which I don't think we will have, or 8% interest rates in the United States, which I don't think we will have either.
Both of these things are macro things that we cannot control. But if those two things happen, it changes the paradigm of what you should do with your capital.
On his best advice
What's the best investment advice you've ever received?
Compound interest. The compounding of returns is an incredible miracle of business, finance, and human existence. Everything you learn is additive, every day. And if you persevere and don't give up, it's an incredible miracle.
On the biggest mistakes of investors
What do you think is the biggest mistake average investors make?
Sell ​​at the wrong time. Continue like that. Keep your money in the market. Do not sell.
By investing US$100,000 right now
What would you say to the average investor who says, "I have US$100,000 to invest?
If you want to be in the markets, buy Brookfield stock. If you want less risk and a more reasonable return, put it in one of the products we offer in the wealth channels. Or we have an NTR (non-traded REIT). They can put it in there, and it will pay a reasonable return over time. He owns great real estate.
Stay discreet
Many people know the CEO of Apollo, Carlyle or KKR, but you are not as well known. Is this a conscious strategy?
It depends on how the business operates and who you are. And it is neither better nor worse. It's just a little different. The focus is always on the business.
If you go to a restaurant and they say, "We don't know who you are. You're in line', don't you mind?
I reserve on OpenTable.
Someone told me you take the subway. Most CEOs aren't on the subway.
The most efficient way to get around, especially in London, is the tube, so I take it all the time. In New York, it's effective in some forms, but not so much.
Does someone recognize you on the subway and say, "Hey, you're the CEO of Brookfield. You shouldn't do that. You should have a car and a driver? »
When you wear a mask these days, a big advantage is that no one recognizes anyone.
Bloomberg Heritage