Readers' Choice 2022 New Product of the Year Awards Announced: A Winning Range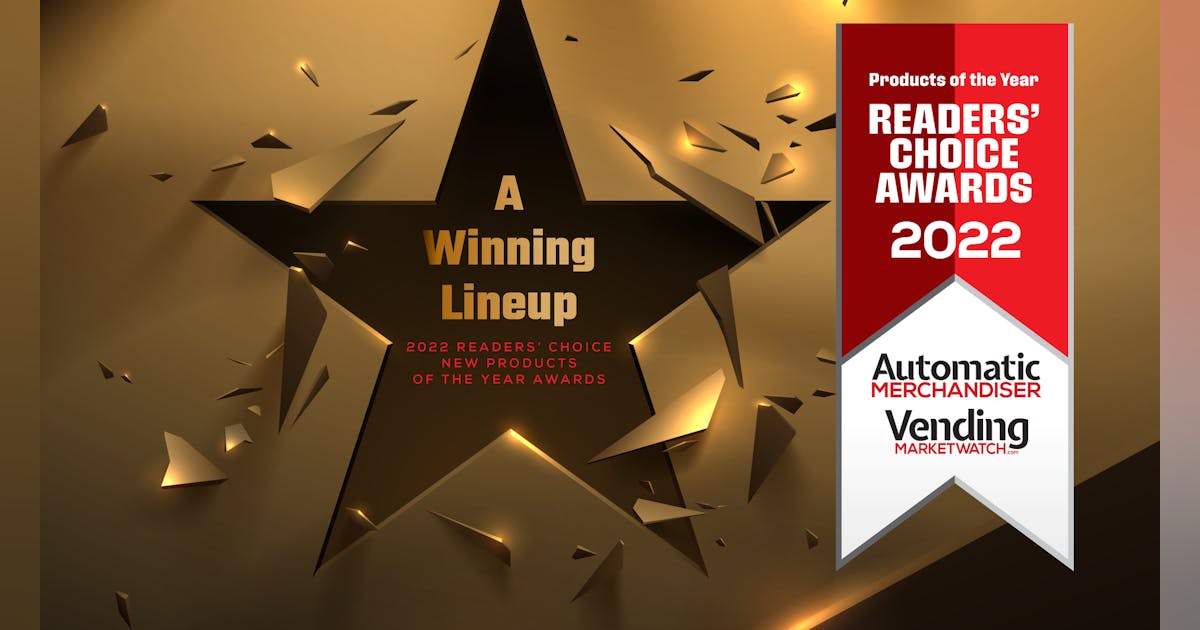 As the country emerges from the COVID-19 pandemic, many Americans are beginning to return to in-person work. Over the past two years, consumers have developed new habits and different food and taste preferences. Manufacturers have continued to provide operators with equipment and products that will help them expand their offerings, especially as companies look to operators to entice employees back to the office.
This year, Automatic Merchandiser asked operators of vending machines, micro-markets and OCS to vote for their most successful or in-demand products and equipment that were introduced in 2021. The winners in 11 categories – salty snack, health , protein and meat snack, cold drink, equipment, cookies and pastries, sweets, food, technology, OCS product, OCS equipment and systems – are in line with market trends for bolder flavors, smarter technology and top quality ingredients.
The winners are: Dot's Pretzels Honey Mustard, Soley Dried Organic Mango Pieces, Righteous Felon Craft Jerky, Celsius Holdings Tropical Vibe, 365 Retail Markets PicoMarket, McKee Foods Debbie Star Crunch, Van Wyk Confections Sweet & Salty Pretzel Rods, White Castle Chicken and Cheese Slider, Panoptyc, Alliant Coffee Solutions Authentic Donut Shop Drive Thru Soft Coffee Pods and BUNN Fast Cup.
SALTY SNACK
Dot's Pretzels LLC won the gold medal with the most votes in the Savory Snacks category. The company has expanded its line of pretzel twists with the new variety Honey Mustard. It is the third seasoning in the company's line of pretzels, joining Dot's Original and Southwest flavors. The flavor was launched in June 2021 after hundreds of customers submitted requests via social media for honey mustard seasoning. The company responded and began development of the new flavor in 2020. Dot's Honey Mustard pretzels are available for vending machines and micro-markets in 1.5 oz. staff and 5 oz. bag sizes.
Following in a close second place is Deep River Snacks Zesty Lime Kettle Baked Potato Chips with a bold lime flavor. These crisps contain no artificial flavors, colors or preservatives and are cooked in sunflower oil only.
IN GOOD HEALTH
For customers looking for a healthy on-the-go solution, look no further than Uniquely new single ingredient dried organic mango chunks – the highest quality, ripest and most delicious mangoes. Solely Dried Mango Pieces are expertly dried and cut into small pieces and contain no added sugar, preservatives or sulfites. The company's patented drying process allows every bite to taste like fresh ripe fruit. 1 ounce of Soley. The sachets are the ideal portion for an individual snack. Solely has also added a Facts Up Front calorie badge specifically to this SKU to remain fully compliant with all vending machines. The suggested retail price is $1.79-$1.99.
Musselman's applesauce in Knouse Cups and Pouches was the runner up in the Healthy category.
PROTEIN AND MEAT SNACK
According to Food Insight's 2021 survey, "From 'Chemical' to 'Clean': Consumer Perspectives on Food Ingredients," Americans are paying more attention to ingredient lists, choosing clean ingredients over ingredients. chemical sounding. In fact, nearly two-thirds (63%) of adults say the ingredients in a food or drink have at least a moderate influence on what they buy. The winner of the Protein & Meat Snack category showcases these findings. Righteous traitor The artisan jerky is made with premium beef, free of hormones and antibiotics, from Roseda, a famous Black Angus farm located in northern Maryland. Righteous Felon jerky is handmade and produced in small batches to ensure freshness, quality and consistency for the ultimate tasting experience.
Coming in second place is Baja Jerky Street Taco flavor.
COLD DRINK
In July 2021, Celsius Fund launched its new flavor, and winner in AM's cold drink category, Tropical Vibe. A combination of star fruit and pineapple, Tropical Vibe provides essential energy, contains no sugar, preservatives, artificial colors or flavors and contains seven essential vitamins. "We are excited to launch Tropical Vibe to our Celsius consumers," said John Fieldly, president and CEO of Celsius Holdings Inc., in a company announcement. "The extension to the Vibe range follows the huge success of our Peach Vibe launched in the summer of 2020 and is a trending addition that we believe will not only broaden our portfolio range, but continue to appeal to a broader base. wide range of energy drink consumers looking for better functional energy for you.
RISE Brewing Co. Original Black Cold Brew Coffee Multi-Serve was a finalist in the Cold Drinks category.
EQUIPMENT
In the Equipment category, 365 retail markets' PicoMarket won gold. The 365 PicoMarket is aimed at both small and large surfaces. It is the most compact and complete self-service payment terminal on the market. This game-changing countertop innovation is transforming breakrooms into snack sanctuaries around the world. The PicoMarket accepts all forms of payment including swipe/tap/chip and the 365Pay app and can improve and streamline the payment experience in any size micro-market. It offers lower start-up costs than traditional vending machines and self-installs quickly and easily with worldwide support.
The runner-up in the Equipment category was API Tech's Smart Pizza vending machine.
COOKIE AND PASTRY
In the Cookie & Pastry category, McKee Foods received the most votes for her cover of Little Debbie Star Crunch, a chewy cookie topped with caramel and crispy rice, covered in fudge. The new individually wrapped cookie is 3 oz, shelf stable and with a fresh date code. They are sold in a 72-ct. crate (six caddies/12 packages per caddie). "Operators will find this new 3-ounce product to be a perfect solution for vending machines, micro-markets, cafeterias and catering," the company said in a statement.
Little Debbie's parent, McKee Foods, started Little Debbie Vending in 2012 to accommodate sizes and packaging to meet the needs of the convenience channel.
Prairie City Bakery's New Ooey Gooey Butter Cake Birthday Cake came in second place.
CANDY
Confectionery Van Wyk won gold in the Candy category for its new Sweet and Salty Pretzel Rods flavor launching in October 2021. Sweet and Salty Caramel Crunchy Pretzel Sticks were introduced after the successful rollout of the original Sweet and Salty Caramel flavor. The 100-calorie pretzel rod is dipped in a creamy milk chocolate dip and topped with caramel bits. Each stem is individually wrapped and certified peanut free. The company ships 36 canes per jar and six jars per case (216 ct.).
AWAKE Caffeine Chunks from Awake Chocolate was the finalist in the Candy category.
FOOD
This year's winner in the coveted Food category goes to White Castle Chicken and Cheese Slider. Available in vending machines and micro-markets, the top-selling non-beef slider in White Castle restaurants joins five other White Castle varieties available in grocers' freezers and foodservice: Original Sliders, Classic Cheese Sliders, Jalapeño Cheese Sliders , Chicken Breast Sliders and the Sausage, Egg & Cheese Breakfast Slider. Chicken and cheese sliders are made with white meat and topped with American cheese.
Taking second place is J&J Snack Foods Buffalo Cheddar Stuffed Soft Pretzel made with Frank's RedHot. Soft pretzel dough is stuffed with white cheddar cheese infused with Frank's RedHot hot sauce and lightly dusted with ranch dressing powder.
TECHNOLOGY
Panoptych, this year's winner in the Technology category, is a game-changer for micro-operators. Panoptyc leverages artificial intelligence through a software and hardware solution to recognize theft and alert the micromarket operator to suspicious behavior. The average micro-market deploying Panoptyc's technology has achieved a 255% reduction in theft, which translates to thousands of dollars per year, per market, in the operator's pocket. The company says its goal is to reduce shrinkage for market operators, help them overcome customer theft, and save countless hours that employees spend looking at images.
Launched in May 2021, ePort Engage by Cantaloupe Inc. was a finalist in the Technology category.
SCO PRODUCT
Alliant Coffee Solutions Authentic Donut Shop Drive Thru Soft Coffee Pods garnered the most votes in the OCS product category. Alliant Coffee Solutions' line of basic coffees features a smoother taste profile and no-frills packaging for large work environments that want: specialty coffee quality, one-cup convenience and unbeatable value. Bulk crates eliminate the cost and hassle of smaller cartons for high-volume kitchens. Commercial-style countertop dispenser boxes offer a convenient, space-saving way to give everyone easy access to great coffee. Donut Shop Drive Thru Soft Coffee Pods are made with special-grade 100% Arabica coffee and come in three flavor profiles: Breakfast Blend, Dark Americano, and French Vanilla.
Smile Beverage Werks Compostable K-Cup Compatible Coffee Pods took second place in the OCS product category.
OCS EQUIPMENT AND SYSTEMS
Coffee consumption has hit a two-decade high, according to findings from the National Coffee Association (NCA). The Spring 2022 National Coffee Data Trends (NCDT) report found that 66% of Americans now drink coffee every day. The report also found that Americans have increased their consumption of coffee outside the home by 8% since January 2021. It's no surprise that BUNN Quick Cut won the most votes in the OCS Equipment & Systems category. Fast Cup is a high-performance bean-to-cup system offering an intuitive touchscreen experience and freshly brewed coffee to the cup, hot or cold, in approximately 30 seconds. The Fast Cup produces virtually no coffee waste, ensuring all beans are brewed in the cup. With three bean selections, a variety of cup sizes, and options for hot and iced coffee, Fast Cup offers versatility from a single platform.
Introduced in April 2021, the Elkay Smartwell Touchless Countertop Beverage Dispenser came in second place.
---

Check out all of these products in the Product Guide at VendingMarketWatch.com/directory.